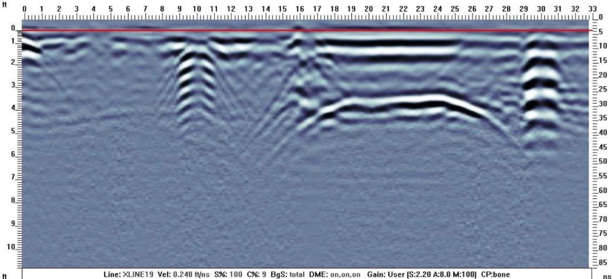 Burial X-Sectional View As our population ages many cemeteries are approaching the point where they are simply running out of space where a loved one can be properly interned. Cemetery mapping services is an arduous task that fully involves both parties to reconcile site specific issues. A GPR survey generally within the 250-500 mega-hertz range is appropriate to identify historic burials and differentiate them from areas that are available for sale. Naturally as one migrates back in time burial techniques become less modern. Detection can be difficult and as these cemeteries become more historic, one needs to recognize that burial methods have changed quite a bit over the last 200 years, making older burials harder to detect. Common applications for cemetery mapping can be from single GPR cross sections over a single grave, up to a fully georeferenced as built AutoCAD file of graves detected by this method that can later be compared to historic records of past burials by facility management.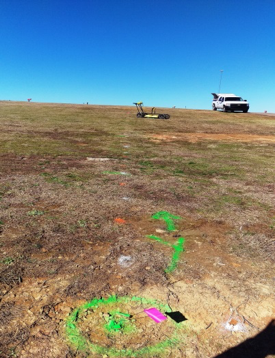 F5 Tornado Damage
The digital advantage realized by those facility managers with our cemetery mapping service is that we can generate any level of deliverable to ur Client as budgets dictate. From simply locating a single unmarked grave, to a fully georeferenced AutoCAD map of headstones, interpreted unmarked graves, plot markers, roads, and buildings can be presented in a professional survey grade data set for future uses as the facility grows with time. Simply utilize the AutoCAD map as a base drawing of your facility and make additions to the set as graves are added going forward into the future.
In one instance, an F5 tornado tore a path through the city of Louisville, MS and removed every headstone, fence post, telephone pole, and trees from the surface. In some areas even the grass was totally removed by the storm! The only items that remained on the land surface were the plot markers, and some metallic name plates of people interned. Obviously, this is an extreme instance but none the less cemetery mapping can be provided to whatever level our Client desires.